Most of the people in United States from the age of 20 to 50 are always looking for a perfect diet plan. But it's like finding a needle in a haystack to find a diet program that would actually work as there are thousands of programs available in the market right now. One thing that could lead to a diet failure is feeling hungry all the time as you would try to have some snacks to overcome your hunger and most of the snacks you would consume would be processed food and it would become the reason of you not seeing any change into your body.
The 21 Day Sugar Detox is a diet program that would help you get rid of the excessive sugar you are consuming. By doing this you will get rid of your cravings and you won't consume food while your body won't require it. According to a research done by food scientist most of the diet plans contains too much sugar and this could lead you to have Obesity, diabetes and it can even lead you to a heart attack. The system promises you to help your body to avoid cravings so your sugar level can be maintained.
21 Day Sugar Detox is an eBook that contains 3 week diet plan. You will also get an online access to its official platform with audio recordings that would help you getting health. If you prefer to have a physical copy of the book, it can also be purchased with every famous bookstore.
The creator of this program wants you to follow a diet that would help you get rid of your cravings in just 3 weeks. After 21 days you can easily control the level of your blood sugar.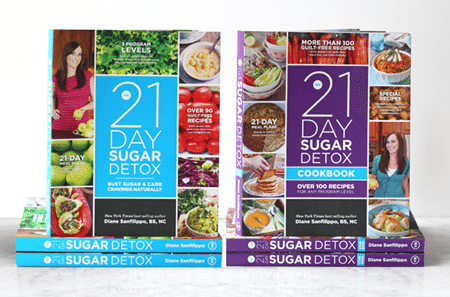 The 21 Day Sugar Detox is created for woman to get back into shape but its safe for everyone including kids or even soon to be moms. Once you will process your payment you are going to get instant access and this system can be performed multiple times. This program enlightens you to eat whole and nutrient foods and not to use processed or refined foods.
It has 3 levels to choose from if you don't want to consume too much of your energy then you should start with level 1 but if you are desperate to restore your health rapidly you can start at level 3. It explains you what food you should eat and what you should avoid all you have to do is to follow it accordingly.
It won't ask you to buy any supplement or something you couldn't find easily at your grocery store. You will find many Paleo recipes and even vegetable friendly one not only the ones with meat.
21 Day Sugar Detox contains a quick start guide of 80 pages that would tell you everything you need to know about the system. A specific plan has also been provided for sports person, pregnant and also breast feeding mom. You will also find 23 audio recordings each one of them is 15 to 20 minutes long which enlightens you to tell all about the program. You will also get daily emails that would contain tips, tricks and motivations for you during the plan. You will get an access to forum where you will get answer of all your questions. If you will go with plus or premium membership you will receive 2 physical books with 200 recipes.
How Much The 21 Day Sugar Detox Cost?
There are 3 packages which you can choose from while getting this program for a onetime fee. You won't have to pay any regular subscription fees. For the basic package you will get eBook of the program audio files, daily detox emails as well as forum membership for $37. In plus package you will get everything included n the basic package plus a physical book with 90 detox recipes.
There is a premium package too where you will get everything else plus a sugar detox cookbook as well The best part about your purchase that your payment will be processed through clickbank so you won't have to worry about your privacy. It also comes up with 14 days money back guarantee so if you will face any issue with it you can get a full refund after returning the products with in first two weeks.
The 21 Day Sugar Detox Creators
Diane Sanfilippo the creator of this program is a health and diet expert. She has created many diet plans throughout the years. She has specialization in Nutrition, digestive system, blood sugar levels and food allergies.
According to the claim on its official website this product has already been used by over 50.000 people who come up with amazing results. Even on many review websites you will find very positive review about this product. So if you are looking for delicious recipes that won't require sugar and could help you get back in shape. The 21 Day Sugar Detox could be a solution for all your problems.